9/12/2017
NEWS RELEASE

NEWS RELEASE 2017
9/12/2017

WA SPA, recipient of the Crystal Awards Professional - Japan Category at the Crystal Awards 2017, an award ceremony that determines the top spa in Japan!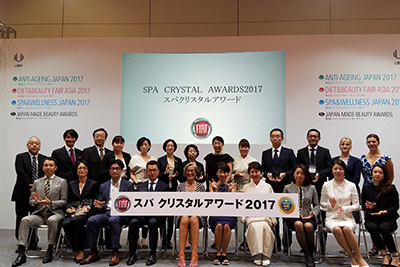 <Spa  Crystal Awards  2017  Ceremony >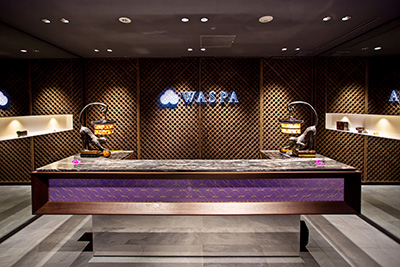 <WA SPA  entrance>
WA SPA, a spa operated by Miss Paris Group (Headquarters: Ginza, Chuo-ku, Tokyo; President & CEO: Akemi Shimomura), provides an experience of Japan through all five senses, and has been awarded the prestigious Crystal Awards Professional - Japan Category Award by Crystal Awards 2017 (jointly held by UBM Media Co. Ltd. and Conceptasia Management and Consulting Ltd.), an award which determines the top spa in Japan.
WA SPA is a spa that is "made in Japan," providing unique and unparalleled services that allow guests to experience the atmosphere, tradition and culture of Japan through all five senses. Everything used in the spa treatments are top-quality materials from Japan that have been selected with great care, such as green bamboo blessed with prayers for long and healthy life at the World Heritage, Kyoto Daigoji Temple, and salt from the Seto Inland Sea, a flourishing salt production site since the Edo era. There is a "tea room" next to the entrance where guests are welcomed with a Japanese flower arrangement and incense, so that they can enjoy an atmosphere unique to Japan the moment they step through the entrance. Guests can also enjoy seasonal Japanese sweets and green tea, making the spa very popular among guests from overseas as well.
The Crystal Awards Professional is presented to the chosen spas in each department, based on the decision of a panel of judges made up of professionals in the spa industry. WA SPA was awarded the Crystal Awards Professional - Japan Category Award, which is awarded to the spa that best expresses the wonders of Japan.
The panel highly praised WA SPA for being a uniquely Japanese spa in the center of Ginza, for offering original techniques that lavishly incorporate traditional natural materials and green bamboo from across the country, and the comforting atmosphere of "Wa" that can already be felt in the reception. The spa also received the award for its exploration and expression of Japan's charm from an international perspective, and its role in promoting Japan's beauty and health in both Japan and overseas.